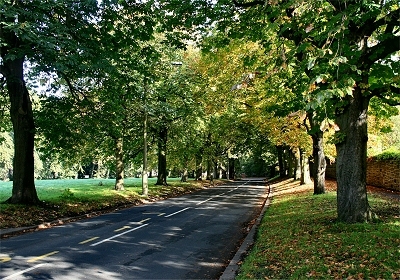 Aigburth Vale
There is another Thingwall in Liverpool, an ancient township that has now lost its identity, having been subsumed into Knotty Ash. Like its counterpart in Wirral, the small 175 ft (53 m) high hill on which the settlement was established was a major meeting place or parliament for the Viking communities of south-west Lancashire. Scandinavian culture became dominant in the area until the Norman conquest (even they were frenchified Vikings). The local language would have merged with that of the settlers, but would have had a predominantly Scandinavian character. The only current Scandinavian dialect word that I am aware of is the local gastronomic delicacy scouse, from a rather later generation of Norwegian sailors.
Croxteth is Viking in origin, meaning Krokr's landing place. Vikings are thought to have sailed up the River Alt and established a settlement here in the 10th century. Looking at the river now, it is hard to imagine Viking ships here, but up to a few hundred years ago, before the construction of flood gates near the estuary and the expansion of Liverpool depleted the water supply at both ends, it was a much more substantial waterway.
Finally, in the south of Liverpool, Aigburth is Old Norse for hill with oak trees (not inappropriate even today). The original settlement probably lay on the banks of the old Osklesbrok, on the slopes up towards Mossley Hill. Other names of Liverpool suburbs with a Viking Origin are Aintree (lone tree, possibly a landmark in an area noted for its lack of trees), Kirkdale (another church, this time in a valley), Litherland (sloping land, and it does), Roby (boundary village, cf. Raby in Wirral, on the boundary of the Scandiavian dominion) and West Derby (deer settlement - there still are some in Croxteth Park).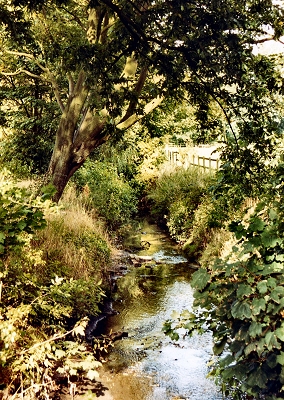 The River Alt at Croxteth Park