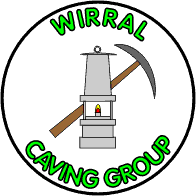 Home Page
Back to Regional Index
---
Content and images
&copy WCG 2003-2015

Click images to enlarge
---
Last Changed: 26/1/2015

E-mail webmaster

---


Trip to Carlswark Cavern -- 1st Mar 2009
Group: Graham, Chris, Mary, Paul, Ian, Dave

We hadn't been to Derbyshire for a while, and so with good weather forecast we decided a trip to Carlswark Caverns was in order. We parked up near the outskirts of Stoney Middleton and after changing headed up the road to locate the Eyam Dale shaft. There were quite a few rock climbers on the cliffs above the road as the weather was warm & sunny. Ian had been here before a long time ago, but could not remember exactly where the entrance was. We piled up the first path we came to and found a passage which split in multiple directions, but didn't have an obvious pitch. Back on the surface a bit more exploration showed a small cave with a shaft and P bolts. Dave dropped down a couple of lengths of ladder and a safety line and people started to pile down. Paul shouted up that one ladder length was sufficient (which definitely didn't sound right), but when Mary (having crawled out of another entrance) came and tapped Dave on the shoulder as he was about to descend was it really clear that we were not in the right location and this was in fact Merlin mine.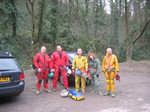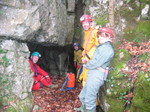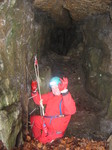 A further search towards the roadside substation showed the correct entrance complete with big iron ring for belaying the ladder. We reconvened and headed down. The 20m rope we brought for a lifeline proved a bit short and had to extended with a spare 9m length. Once at the bottom we headed North down a low passage and then left at a junction towards the North West passage. Eventually we encountered a squeeze down into a small chamber with two passages. The squeeze proved a bit too tight for Graham & Chris who opted to wait in the passage while the rest of us explored. The right hand exit led to the duck at Cockle passage looked very uninviting and so we headed down the other passage towards Big Dig and Dynamite passage.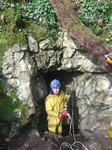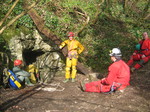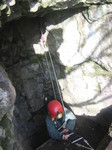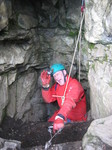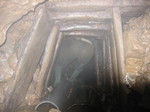 We passed the entrance to Big Dig and headed through the shored section, carrying on along the obvious line and ignoring some of the side passages (most of which ended in collapses or chokes). Ian started to recognize bits of the passage from his previous trip and after a bit further we exited dynamite passage and entered Stalactite passage. We carried on along this till we reached the rope climb down towards the sump and then turned back, past Dynamite passage to look for the other end of the sump at Cockle passage.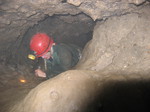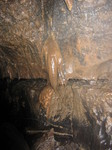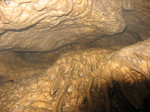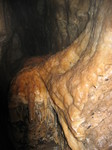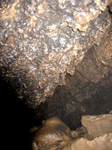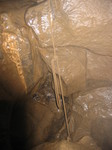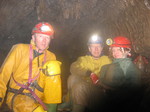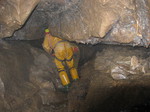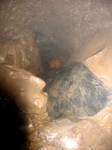 After this we headed back towards North West passage and met back up with Graham & Chris so we could head along Eyam passage towards the Gin entrance. The passage proved to be fairly wet and reminiscent of parts of Poachers cave. We met a couple cavers near the entrance cavern who had come armed with cleaning material to remove some graffiti and painted arrows. After a chat we headed out of Gin entrance into the sunlight and back to the cars before returning to Eyam Dale shaft to de-rig.

We headed off to the pub after quite a pleasant afternoons caving.

Total trip time about 3 hours