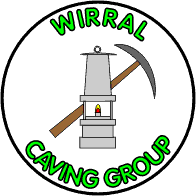 Home Page
Back to Regional Index
---
Content and images
&copy WCG 2003-2015

Click images to enlarge
---
Last Changed: 26/1/2015

E-mail webmaster

---


Trip to Ogof Cefn Y Gist -- 9/7/2011
Group: Ian, Dave

A trip to investigate Cefn Y Gist had been on the cards for a long time and so after SRT Practice at Devils Bridge near Cilcain two of us headed off to Exclusham Mountain to sample its delights. The entrance was pretty easy to find having done a bit of research earlier, its not far from the road in a boggy area complete with an old fridge. We lifted the steel plate which keeps the sheep out and climbed down the short shaft along with a stream of ochreous water. The passage was low and shored up with a mixture of timber and scaffolding poles - care was needed in this section. The passage got lower and a flat out crawl in the stream is necessary to pass under a boulder, hence it is best to go in dry and stable weather as this could sump.

Further on the passage enlarged slightly and became muddier, a couple of squeezes were passed and eventually a larger chamber it reached which was full of fallen blocks. The stream flowed about 5' below the level of the chamber floor and could be seen looking through holes in the floor. At the roof level were a few formations, nothing fantastic. Sadly Dave balanced an expensive LED hand lantern on a rock to provide a little extra light for photography having warned Ian to be careful not to drop any stuff in case it dropped through the holes in the floor. Needless to say 10 seconds later the said lantern slid off its perch and dropped though a 6" square hole. It couldn't be seen, but its light could be seen in the streamway and it was completely out of reach unless you had 5-6' arms.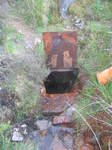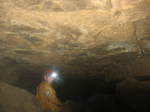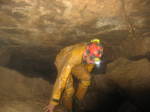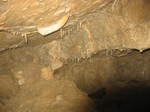 We carried on heading downslope and crawled through a tiny window which led on to another thrutchy passage and thence via unobvious windows to a couple of smaller chambers, the second one containing some 'bang wire'. The wire led though a tight hole into the remains of a chamber where the way on was prevented by blocks which had fallen from the ceiling. We guessed this was the chamber which NWCC had attempted to blow a hole in the floor to regain the streamway, but instead brought down the roof...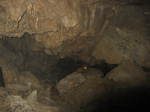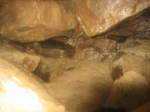 We had a poke around and then headed out. The mud seemed to stick to everything and even the wallow in the warm water in the low crawl didn't wash it off. After changing we headed to the Sun at Trevor for a well deserved pint and decided the cave was for slim connoisseur's only. A subsequent glance at Cris Ebbs excellent guide to "The Caves of North East Wales" showed that there was another passage from the main chamber apparently containing some nice formations.

This proved a catalyst and Dave returned four days later armed with a hooked garden cane and a mirror on a stick to see if the lantern could be retrieved and to see if the other passage could be located. It took a bit of effort to get to the chamber with the fishing kit and after 30 minutes messing around the rescue attempt was abandoned - The lantern couldn't be seen and probing with the hook failed to find it. Before heading out a search was made for Bink's passage and towards the end of the chamber, just before the window to the caves continuation, there was a squarish hole on the RHS with a bit of passage visible. It didn't look very inviting being tight and very muddy. - the sort of gloopy mud which sticks like sh*t. But since the whole cave consisted of improbable looking ways on this had to be it and so legs and body where thrust downwards. After a bit of wallowing the passage seemed to get larger and it opened out into a sizeable chamber with quite a lot of formations and rather less mud. The chamber sloped up towards the surface and went on for quite a while before it finally closed down. There was a little tickle of water near the top. The formations where clean, untouched and some seemed to have peculiar black pebbles attached to them - It was like someone had superglued them up.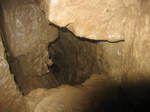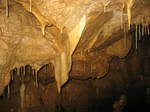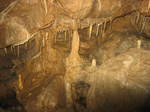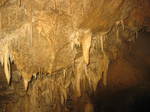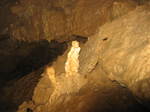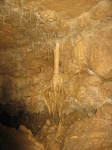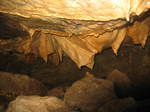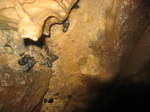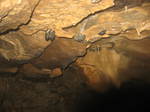 After a photo session the cave was left in peace again. I doubt if its visited very often, but having seen the 'pretty passage' I would upgrade the cave from "for slim connoisseur's only" to "OK for a afternoon trip in dry & settled weather" (but you still need to be slim)

Overall trip time about 2 hours.