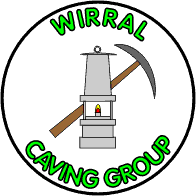 Home Page
Back to Regional Index
---
Content and images
&copy WCG 2003-2015

Click images to enlarge
---
Last Changed: 26/1/2015

E-mail webmaster

---


Trip to Cnoc Nan Uamh System -- 25th Apr 2008
Group: Paul, Mary, Dave

Second cave of the day after the confusion over the location. Walking up the track from Glenbain cottage this cave is blindingly obvious and the three entrances are close together.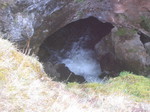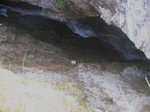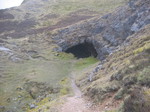 We headed into Uamh An Tartair and ducked under the entrance arch, another arch led to a second chamber and at the back a crawl dropped into the Stream chamber. The volume of water flowing in the chamber was not great, but sufficient to discourage us from trying to follow the water upstream. We went to the back of the streamway and Dave investigated a couple of low wet crawls while Paul & Mary looked up a rising passage. This proved to split in several directions, but heading up and then to the left led to a short muddy passage with a tight crawl in the floor. Heading along this led to a chamber (The Grotto) containing some nice formations in the ceiling and a side passage.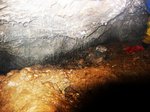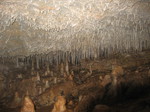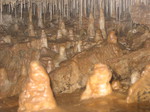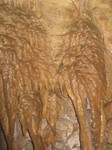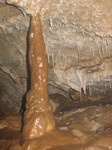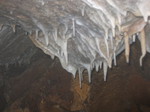 Down from the Grotto, the stream was encountered and Mary noticed a length of chain around a boulder dipping into the water. On examination this seemed to have a pair of rusty 'chip pan' baskets wired together. We can only guess this was for dye testing or similar. While groveling around in the stream area Mary also noticed a yellow lump of plastic. She tried to reach it from above, but it was out of arms reach. Dave managed to get it from a tight squeeze and it turned out to be some kind of data logger. It was not clear whether it had been placed in the spot or been washed in. It was not attached to anything, but we put it back basically where it had been. and then after looking for non-wet continuations we headed back up the way we came.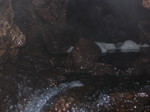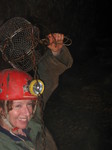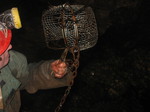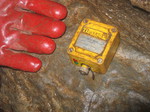 We returned to the stream chamber by another route which slightly disorientated us and caused a certain amount of backtracking to confirm were we were. Once we had established our bearings then we found the passage back to the entrance. On the way out we noticed someone had artistically piled up groups of pebbles in an alcove just before the rocky crawl out.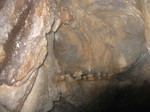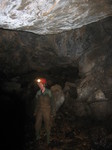 Total trip time about 1.5 hours, There is still lots to explore and we intend to return.