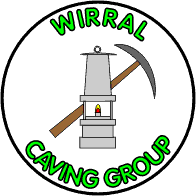 Home Page
Back to Regional Index
---
Content and images
&copy WCG 2003-2015

Click images to enlarge
---
Last Changed: 26/1/2015

E-mail webmaster

---


Trip to Crackpot Cave -- 2nd Sep 2011
Group: Graham, Dave

None of us had been caving for a while and so when Graham suggested he fancied a caving trip while off work it was just a matter of deciding where. The weather didn't look fantastic and water levels were fairly high so we decide to have a look at Crackpot. We headed up in rather grey weather and parked next to an outdoor centre minibus at the side of a minor road near the rough track leading steeply down to Summer Lodge Farm. While we were changing the van owners and a gang of local schoolkids came up the track having had trip into Crackpot. We chatted for a while, picking up directions to the cave and then headed down the track to the gateway and right along the wall following the path down to the cave.

The old entrance had well and truly collapsed and so after a few photos we headed down the kneewrecker entrance to a muddy passage. This connected after a short distance to kneewrecker passage. Turning right led to a dead end after about 20 yards and we retraced our steps and headed left over cobbles and polished stalagmite bosses, eventually arriving at the big stream passage. Exploring to the right led to a dead end, but there were a few areas where you could crawl into constricted holes which, if followed, would have led to the original collapsed entrance. Most of these were wet, tight and looked very unstable.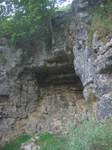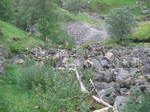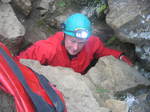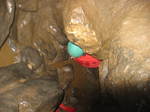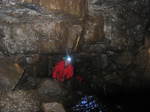 Heading upstream along the stream passage there were some really quite nice formations and lots of straw stals in the roof. The pools of water were over 'welly depth' but it wasn't cold and we gradually made our way through 'block passage' and into the section containing the column.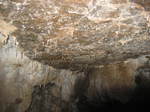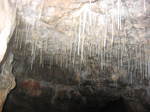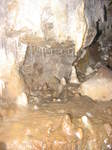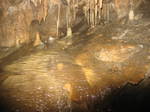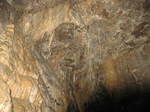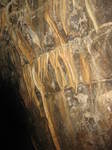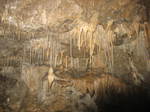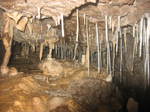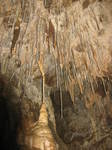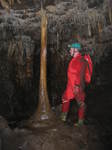 After a few more photos we headed along bridge passage and entered Cullingford's Folly. This circular chamber with a domed roof had a lot of straw stals and even boasted a convenient plank of wood so you could sit comfortably and admire the view. We then headed down Cullingford's series to Hellfire Alley and crawled along the rather unstable looking dig to the end. It's not very exciting and the scaffolding looks a bit suspect so we avoided pressing against it too hard lest the walls or roof collapsed.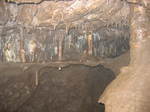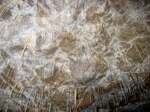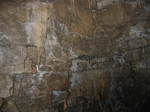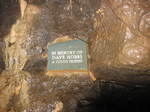 Heading back following the stream led to a lowering roof, further progress would have been very wet, so we retreated back the way we came meeting another group of school kids just reaching the passage with the column. We had a quick look up the so called 'formation passage', but it's a bit worse for wear and there are better formations elsewhere.

We headed back out into slight drizzle. Overall we were quite impressed by this cave as it still has some undamaged formations despite the volume of traffic it must receive. Trip time about 2 hours.