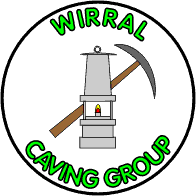 Home Page
Back to Regional Index
---
Content and images
&copy WCG 2003-2015

Click images to enlarge
---
Last Changed: 26/1/2015

E-mail webmaster

---


Trip to Gaping Gill -- 19th May 2013
Group: Mary, Ian, Paul, Dave, Hannah, Martin (RRCPC)

We did a trip to Gaping Gill last year using the winch and decided this year to do it under our own steam and SRT down Bar Pot. We set off early in two cars and arrived at Clapham for about 10 O'clock. A quick change in the car park and a gentle slog up the path past Ingleborough cave saw us at Bar Pot for 12 O'clock. Dave & Ian checked in at control and then joined the others donning SRT gear. There were a few other groups of cavers heading up to control, some going in via corkys and others via marilyn.

We made our way to the entrance and the first pitch which was a bit constricted but not too difficult. This dropped into a small chamber and at the bottom another rope provided protection for a slide down a greasy slab to land at the top of a boulder field. A scramble down the slope, through a small hole and then down another bouldery section led to ledge at the top of the main pitch well protected by a traverse line. Martin headed down first followed by the rest of the party.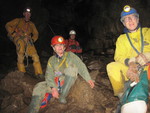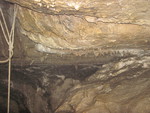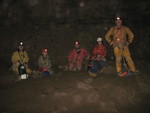 The original plan was to do a circular tour using mud henlers crawl, but it had rained heavily the day before and no-one fancied a long crawl in water so we decided to head to the main chamber and then on to Mud Hall.

We headed north-west passing under the rather drippy bottom pitch of flood and avoided falling down SE passage pot by using the handline and slipping into the low passage which joined the main SE passage. We opted to bag SRT gear here as it wasn't needed again till the traverse in Mud Hall. We met a few cavers heading towards Bar Pot and after a few minutes reached the main chamber. This was lit and there was a moderate amount of water coming down the main shaft and rat hole. There were surprisingly few people around...

After a quick look around we put harness and cows tails back on and climbed up the slope at the east end of the chamber, up the iron ladder (now reinforced with an alloy one) and along a passage lined with stal and flowstone. There was one large lump of rock and flowstone sticking out from the wall which seemed to be defying gravity.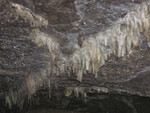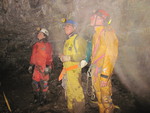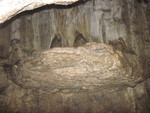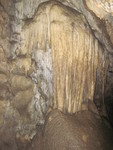 A bit further on we reached Mud Hall and clipped onto the traverse line to skirt around the 30m drop to the bottom of mud hall. After a climb down a fixed chain and a further traverse the end of mud hall was reached with a collection of mud figures and objects, some more artistic than others.

We headed over to the left and climbed up muddy slopes, passing the rope hanging down from Corky's Pot, and carried on along the East passage. This went past quite a few more formations, but by the time we reached the far east junction it was time to turn around and head back to Bar pot.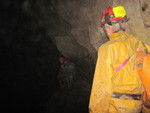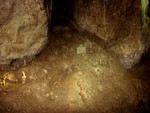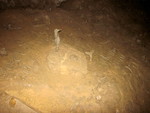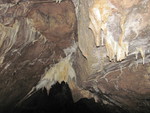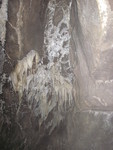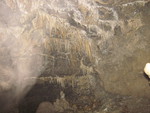 Once back at Bar Pot it took about an hour to get everyone up the first pitch and then another 30 minutes to get up the top pitch.

An excellent trip lasting about 6.5 hours. A bit thank you to BPC for rigging the pitches so we didn't have to lug the ropes up from Clapham.