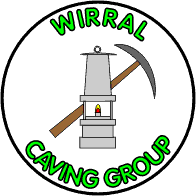 Home Page
Back to Regional Index
---
Content and images
&copy WCG 2003-2015

Click images to enlarge
---
Last Changed: 26/1/2015

E-mail webmaster

---


Trip to Hardrawkin Pot -- 17th Feb 2008
Group: Ian, Mary, Paul, Dave

The weather was frosty and bright as we parked the car just up from the Hill Inn. The car park was full and so we had to park at the side of the road. We changed and then set off for Hardrawkin Pot which took a little bit of time to find, even with a GPS. Mary provided entertainment en route by getting one foot stuck in a section of frozen bog. We sorted out the gear and then climbed down the little waterfall to the streamway before the entrance.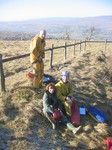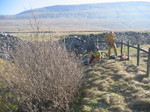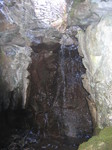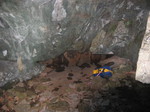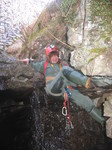 We crawled through the entrance and followed the streamway, this twisted and turned for a few hundred metres before the first pitch was reached. Quite a bit of the passage was of walking height, but this was interspersed with low wet crawls. Some of the walls were decorated with flowstone and 'cauliflower' like deposits, but on the whole the decoration was pretty low key.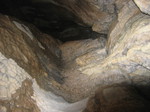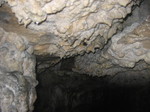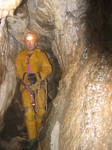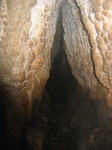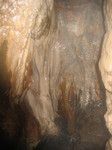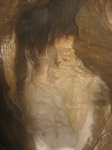 The first pitch was fairly easy to rig, though the Y hang is a bit of a stretch and you have to look for the RHS anchor. Dave rigged the pitch and then headed down clutching a couple of slings for the deviations. The volume of water dropping down theb pitch was quite small, but it dropped onto a ledge a few metres down and sprayed out. Careful penduluming and searching showed no obvious naturals for the deviations near the top and in fact the first one was about halfway down and the next one was 8 metres lower. It didn't take long till the four of us were at the bottom of the pitch in the spray lashed passage which is quite nicely fluted.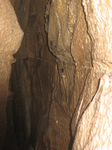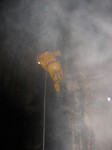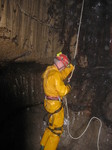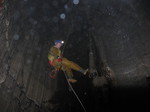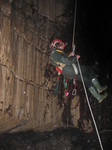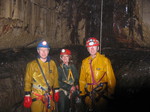 We headed down towards the second pitch. The first section is just a couple of minor drops, but then there is a bit of a narrow cleft which Dave rigged with a safety rope. This was pretty pointless as he had a heavy rope sack over his shoulder and tried to use a stop single handed to manoeuvre down to the floor. About halfway down a slightly over generous squeeze on the stop dumped him on the floor, unhurt, but looking foolish! Hindsight is a wonderful thing and looking up it was clear if you kept to the RHS then there was a fairly easy and safe climb down on the RHS of the cleft. The pitch head was reached shortly after and easily rigged, there is an old well used anchor dated 1971 which was secure and provided good place for cows tails while leaning out to rig the Y hang. We descended and avoided the rather deep sump at the bottom of the pitch.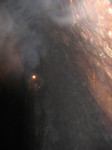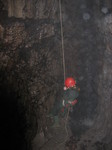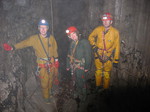 After a quick look around (there is not much to see!) we prussiked back up and met another couple of local lads out for an afternoons exercise just rigging the second pitch. We left them to it and headed back out to the surface. In was noticablely cooler and we didn't take long to change and head for a pub in Ingleton.

Overall trip time about 3.5 hours