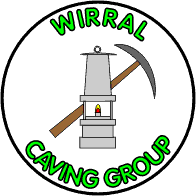 Home Page
Back to Regional Index
---
Content and images
&copy WCG 2003-2015

Click images to enlarge
---
Last Changed: 26/1/2015

E-mail webmaster

---


Trip to Heron Pot -- 6 May 2007
Group: Paul, Mary, Dave

The weather looked dull but settled as we headed off to Ingleton to call into Bernies for some gear and Inglesport for a late breakfast. We drove up Kingsdale, parked at the side of the road near Yordas and changed into caving gear. We crossed the field and Kingdale Beck (which was dry) and headed up towards a likely stream. A GPS proved very useful and it wasn't long before we found a appropriate looking hole at the side of the stream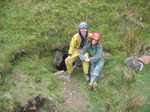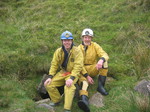 A quick check by Dave showed it was not worth donning SRT gear at this point as there seemed to be quite a bit of streamway and some of it was a crawl. We dropped down the entrance and entered the crawlway just behind the entrance boulder. The passage was low but fairly dry and occasionally opened up so you could stand up.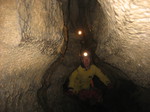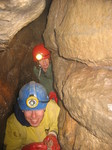 After a short while a T junction was reached, the RHS passage was low and contained the incoming stream. Downstream the passage became a highish rift very reminiscent of the crabwalk in Giant's Hole. Progress in the narrow rift was fast and quite a few pretty formations were encountered.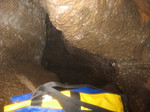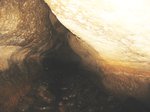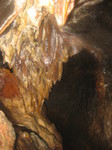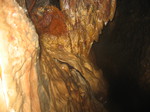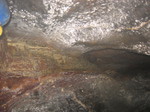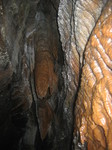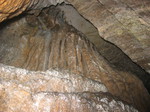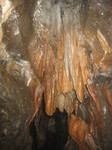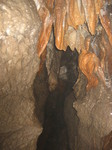 A little further on a pair of Eco hangers in the roof mark the start of the first pitch and Dave rigged a Y hang and clipped the rope into a stop. A slightly awkward squirm around the corner and up revealed a little alcove with the next anchor and directly opposite the Y hang for the pitch. It didn't take long to rig this and have the party drop down the pitch.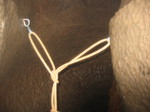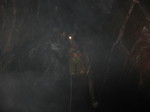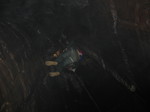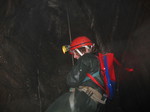 The second pitch was very close to the bottom of the first pitch. A quick look around showed a single Eco hanger on the nearby wall and a pair of Eco hangers arranged for pull-throughs and nothing else. A bit more investigation with some rope protection revealed more anchors high up on the RHS after a climb up and these were rigged with a Y hang. From this position we could not see where the rebelay mentioned in the rigging guide was situated. As it happened there was very little water and the Y hang was fine on its own. When we got to the bottom of the pitch we could just make out an Eco hanger on a buttress around the corner from the free hanging rope. It would take a bit of a pendulum to reach it!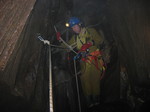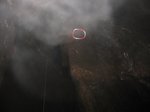 At the bottom of the pitch the streamway continued as a high rift before becoming a low crawl in places. We could feel a definite draught and carried on till we reached a very low section with a polished floor and a couple of inches of water. At this point it seemed hardily worth continuing to the exit near Gaze Gill as we would have to return to de-rig the pitches and it would have meant getting a lot wetter. The lower section does have some nice pretties and so is worth a visit.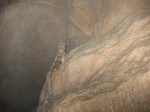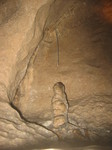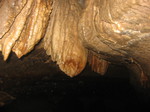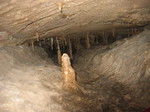 We retraced our steps, prussiked back up the pitches and de-rigged. After changing we headed to the Marton Arms for a well deserved pint.

Note: If doing a through trip would be worth taking an extra short length of rope or couple of long slings so that the climbs up to the pitch heads can be protected.

Overall trip time 4 hours including the walk in each direction.