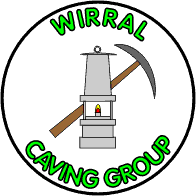 Home Page
Back to Regional Index
---
Content and images
&copy WCG 2003-2015

Click images to enlarge
---
Last Changed: 26/1/2015

E-mail webmaster

---


Knotlow Mine -- 21th Jun 2009
Group: Mary, Paul, Ian, Dave , John (PDMHS), Chris (PDMHS), Keith (YSS), Roy (MCG), Ann (MCG)

This trip was also organised as part of the 2009 NAMHO conference and we grateful for the sterling work of rigging and organising done by the Masson Caving Group and others. We met up at the old smithy cafe in Monyash, drove to the track near the mine and kitted up. A short walk brought the party to the two access hatches. Keith headed off across the field to rig the engine shaft while Roy rigged the climbing shaft.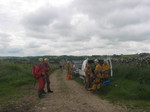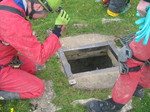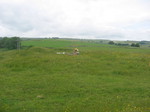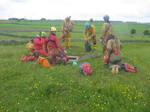 After Roy headed down the first pitch the rest of us followed and waited in the cavern while the rigging of the second pitch was completed. This is straightforward apart from a deviation right at the top. The pitch was quite short and landed in a chamber with a scrambly exit down a passage towards the final pitch.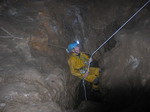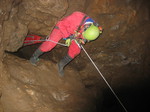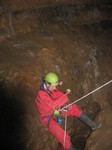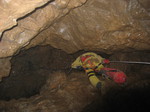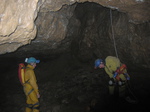 Several passages were encountered on the route down, but the sound of the waterfall showed the correct direction. Roy rigged the final pitch which had an aid traverse to avoid the waterfall and quite a wide Y hang followed by a deviation some distance away which kept everyone out of the water. Some people had a bit of difficulty getting onto the Y hang due to the width of the passage and the deviation also caused a few problems for some. Once down a quick poke about in superb, but rather wet coffin level, and we were ready to prussik out up the engine shaft. Roy & Keith went back up the climbing shaft to de-rig while the rest of the party went up the 64m engine shaft which took about 15-20 minutes per person.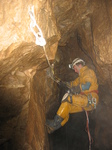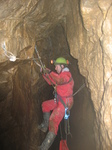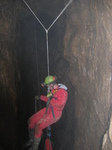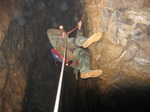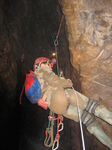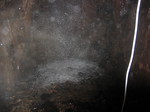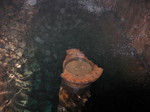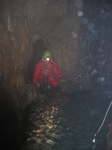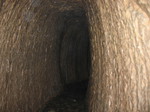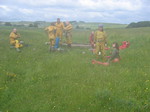 A very pleasant trip with warm sunshine on exit from the engine shaft.

Total trip time about 3 hours