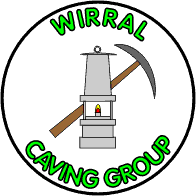 Home Page
1st Trip - 27th June 2004
2nd Trip - 15th August 2004
3rd Trip - 9th October 2005
4th Trip - 20th January 2007
5th Trip - 28th December 2007
Back to Mine Index
---
Content and images
&copy WCG 2003-2015

Click images to enlarge
---
Last Changed: 26/1/2015

E-mail webmaster

---


Parc Mine Level 2
Parc Mine Level 2 gives access to Parc Level 3 both before and after the blockage and also gives access to Llanrwst mine and Cyffty mine. Note that there are a lot of holes in the floor in various areas where the stopes from Level 3 have reached Level 2 and great care should be taken at all times as the drop is about 150' and a fall would probably be fatal. The section after the dig where the rails are supported on rusty chains above a void is "fairly hairy". You have been warned!
Latest News
Latest News There is a major collapse on level 2 about 100 yards after Roy's dig. It looks although material from Llanrwst diagonal shaft has fallen down and completely blocked the level 2 passage so it is no longer possible to get to Cyffty East or the ladders down to Level 3 after the blockage. This problem has now been averted by yet another dig by the master himself. It is possible to get all the way to East Cyffty again and onward to West Cyffty by the ladderway and deep ochre

There is also a collapse in Level 3 just inside the portal and water is backing up to the choke dam and draining into Kneebones cutting. FC are aware of this and investigating. Work was to have been done to clear the blockage by late spring 2013, but this seems to have been delayed (probably money issues) and quite a few tracks/paths have barriers in place, probably more to act as a warning than keep people out...