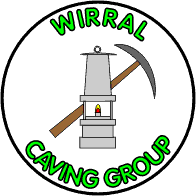 Home Page
Back to Regional Index
---
Content and images
&copy WCG 2003-2015

Click images to enlarge
---
Last Changed: 26/1/2015

E-mail webmaster

---


Trip to Pillar Holes -- 3rd August 2008
Group: Graham, Dave, Ian, Paul, Mary

Since the weekend weather looked settled we applied for a permit to the Ingleborough Estate which was duly granted (thank you!) and headed off to Newby Cotes after a quick stop in Bernies for food and so Graham could buy a new oversuit
The advance party headed up towards the fell using a rather convoluted route which did allow the second party (mainly spectators) to catch up. The weather was warm and sunny, Dave rigged the first pitch down No. 2 shaft while the rest changed or gawped down the other shafts.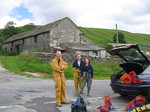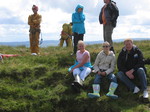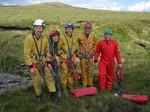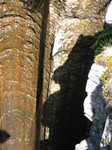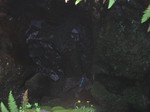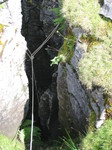 We headed down No. 2 shaft and waited at the top of the second pitch while Paul rigged the Y hang and then disappeared to rig the re-belay further on. There were lots of loose stones at the top of the pitch and on the ledge before the re-belay so care is needed to avoid kicking them down the lower pitches.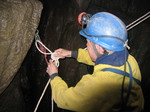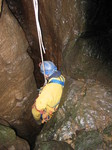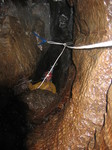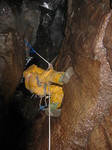 At the bottom of the second pitch there is a small platform and the anchors for the final pitch are a distance away. A careful traverse towards them is helped by having a rock pillar (used for the deviation) to stand on while fixing the Y hang.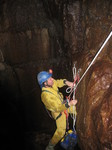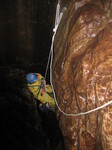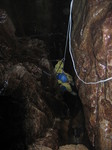 The rest of the team headed down the pitch apart from Graham who decided he needed to polish up his changeover skills just in case he got stuck. Note the Rigging guide reckons on 50m of rope for the pitch, but even with a generous traverse line we still had over 10m of rope spare at the bottom.

Once the rest were down we had a quick look around. A short climb up led to a smelly chamber below the No. 1 shaft which had an assortment of dead animals (3 rabbits, 1 hare and the bones of at least 2 sheep). Further on it looked possible to climb down and across towards the SW aven, however the atmosphere wasn't particularly pleasant and so we looked at the dig from the top and pondered the reason for having a firehose down here before heading back up the pitches.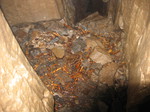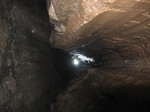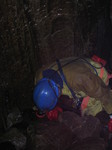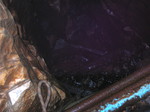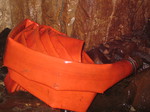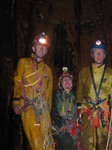 Exiting the top pitch proved to be a bit difficult for Mary, who being short, couldn't get sufficient purchase with her feet against the rock to remove her chest jamber. In hindsight, adding a long sling to one of the P bolts would have made it a lot easier for her, but after a lot of acrobatics and an equal amount of swearing the jamber was removed and the surface gained. Sadly there are no photographs... The rest of us with longer legs didn't have any problems.

We choose a more direct route back to the car and ended a very pleasant trip with a quick pint in the Mason Arms before heading home.

Overall trip time about 3 hours