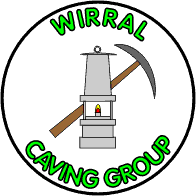 Home Page
Back to Regional Index
---
Content and images
&copy WCG 2003-2015

Click images to enlarge
---
Last Changed: 26/1/2015

E-mail webmaster

---


Trip to Poacher's Cave -- 26/9/2004
Group: Dennis, Paul, Dave

This trip was planned a while ago to take Paul underground and possibly Gordon as well as he had missed the previous trip. In the end he couldn't make it and so the three of us assembled at the Cilcain car park in dry, but overcast conditions.

The entrance was quickly reached and after sorting out the gear Dave crawled though the outer door and slid along to open the hatch in the floor leading to Dyers adit. It only took a short while to rig a ladder and safety line and after 5 minutes Paul and Dennis arrived.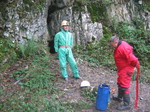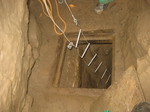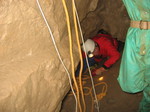 The 15' descent was easy and led into a short passage, one end of this was closed, the other dropped down to a low passage with a limestone floor. A little further on the passage narrowed as mud banks intruded from both left and right and the floor became a mixture of mud and silt. This continued for a while, progress being by a mixture of crawling and walking as the height permitted.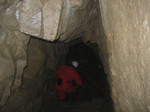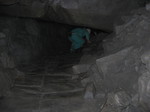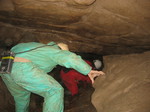 The passage opened up and there is a choice of carrying straight on or crawling up a mud bank on the RHS which led to a 'sporting' mud crawl. The latter route was taken by Dave and Paul and they met up with Dennis again at the intersect with the main passage. There were some small stalls and a small limestone boss near the intersect.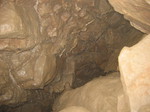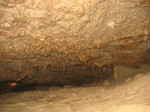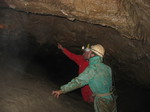 Further on the streamway was encountered, the passage widened and it is possible to wash off some of the accumulated mud - this is probably pointless as there is more to come! Further on it was necessary to get wet for a few metres as the water depth increased and the roof lowered, but just after this the passage opened out, there are some formations and shortly the large main chamber containing a huge limestone boss was reached.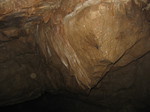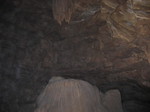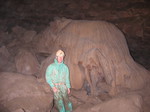 The main streamway carried on and there are some nice formations, however quite a few vandalised ones were also evident. The passage eventually closed down and this signalled the end of the system.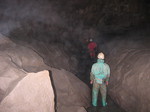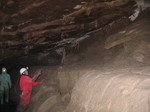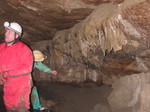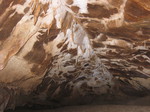 On the way back we dropped into the lower series which is reached by a crawl through a small gap. Amazingly Dennis actually managed this. After a bit of investigating we crawled back to the main passage and plodded back to the ladder pitch.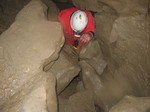 Overall trip time about 2 hours.