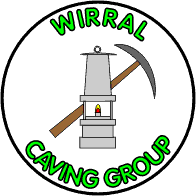 Home Page
Back to Regional Index
---
Content and images
&copy WCG 2003-2015

Click images to enlarge
---
Last Changed: 26/1/2015

E-mail webmaster

---


Trip to Sell Gill Holes -- 16th Sep 2007
Group: Dennis, Paul, Dave

The weather was dull & cloudy as we set off, but promised to be dry till late afternoon. We drove to Ingleton and called in at Inglesport for a lamp bracket for Dennis and some other goodies and then headed to Horton in Ribblesdale. The car park was full so we parked and changed at the side of the road and then headed up the Pennine Way path. After a mile we found the entrances to Sell Gill Holes on either side of the path, the wet entrance was pretty damn dry, in fact there was barely a trickle and so Dave had a quick look in - we hadn't planned to do this route and so did not have enough rope to rig it.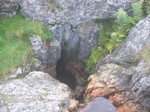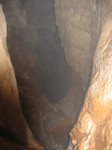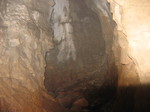 Meanwhile Paul & Dennis got their SRT gear on and then Paul set about rigging the first pitch. There were lots of P bolts and so the task was pretty simple, but did require a slightly awkward stance to rig the Y hang.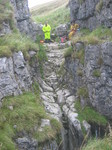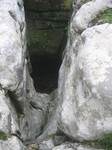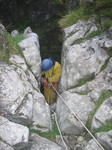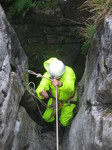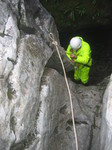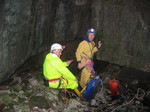 At the bottom of the first pitch a rough stony slope led down to the next pitch. This looked quite interesting to rig as there were copious P bolts, especially on the LHS of the rift. Some of the P bolts on the RHS were in places which would be difficult to reach without a lot of penduluming and exposure.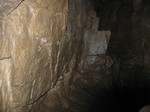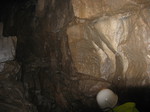 After a bit of discussion it was decided to rig a short traverse line and a Y hang across the passage which gave a free hang well clear of the walls and a fairly easy takeoff from the bottom of the slope.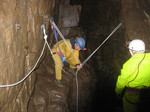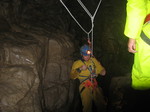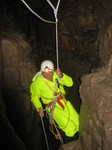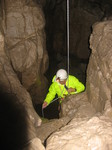 Once down the next pitch lay a short distance away. A Y hang well back in the passage led to another Y hang dropping to a small ledge and then there was a interesting looking traverse to the final Y hang. The position for the final hang was the subject of some discussion and in the end it was rigged with the nearest two hangers rather than the middle and far one which might have given a slightly better hang, but would have involved a lot of gymnastics to get on and off the rope. The slight rope rub was avoided with a protector.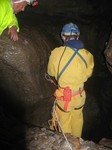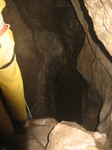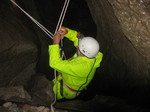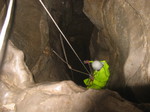 It didn't take long to get down the final pitch and explore the chamber. The 'wet' route was pretty damn dry apart from one or two drips. We climbed down the chamber boulderfield and groveled in the low streamway which contained some passible formations, in contrast to the rest of the cave, which was a bit austere.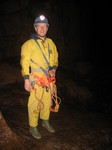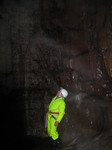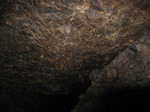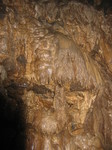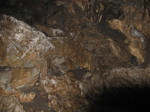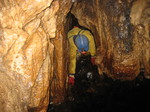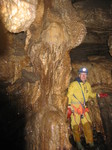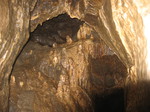 After a bit more wandering around we headed back up the pitches with Dave de-rigging and back into the fresh air, While we were down in the cave the rain had arrived and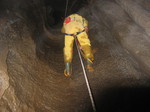 so we had a wet walk back to the village. It did stop raining briefly and so getting changed was quite pleasant. We retired to the Golden Lion for a pint and the heavens opened - we guessed the wet way would probably now live up to its name.

Overall trip time about 3 hours