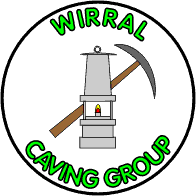 Home Page
Back to Regional Index
---
Content and images
&copy WCG 2003-2015

Click images to enlarge
---
Last Changed: 26/1/2015

E-mail webmaster

---


Trip to Skirwith Cave -- 10th Apr 2011
Group: Graham, Tom, Dave

We had aimed to do this a couple of weeks ago but had to postpone it. After phoning the farm for permission we set up a bit later than usual in warm sunny weather but made good time to Ingleton. There was a bit of messing around to find the parking place for the cave and when we found it it was pretty full and the only gap was stolen by a bloody walker who sneaked in while we were waiting to pull into a better position. We parked a couple of hundred yards nearer Ingleton in another layby which was also pretty full.

Graham had decided he wanted to mess around in the water and so decided to wear a thin wetsuit, the rest opted for furry suits so we didn't boil. We walked up the road to the gate but noticing the track seemed to head directly to a distant wall we decided to head cross country to a rocky outcrop. Subsequently we found that the track actually splits and the LHS branch ends up at the outcrop, but you cannot see this from the access gate.

The cliff has an old shed nearby together with a set of steps and a fading painted sign 'cave entrance'. We headed up the steps and carried on for about 100 yards, veering slightly to the right and found the hole leading into the cave.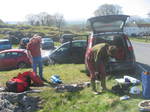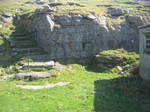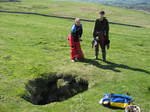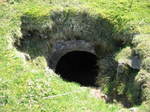 A quick slide though the hole past an old iron gate led to a tall narrow rift with some nice flowstone formations and the sound of running water. The passage had various artifacts in the form of broken handrails, concrete steps and rotting timber walkways from the days when it was a show cave. Carrying on there was a bit of a collapse and after a squeeze through a hole the passage continued ahead, but there were the remains of some concrete steps leading down, however the way was blocked by a collapse.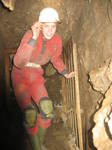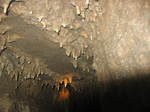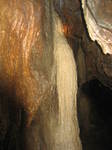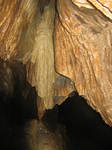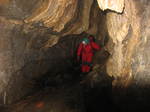 Ahead the sound of water intensified and a chamber with a 3m waterfall was reached. The waterfall proved fairly easy to climb, though a slip would be nasty. At the top there were a couple of boulders which wobbled a bit, but provided a temporary anchor for a safety line.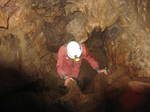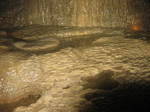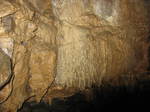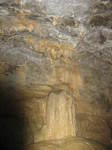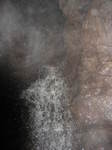 Once at the top the party headed straight on an crawled along the dry passage. This has a scalloped floor (kneepads!), but after about 25m it ends in a muddy choke which is big enough to turn around it. Back at the top of the waterfall the other passage, which carried the water, started as a low crawl over a few cascades and some deep pools. Even though it had been dry for a while there was evidence that the passage floods to the roof at times. Further on the water got deeper, but there was enough headroom for a mainly hands and knees crawl with occasional lower sections.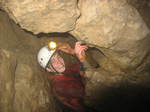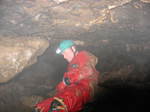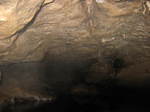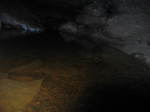 There was meant to be a duck, but we couldn't find it and after a crawl over some boulders a rift passage was encountered were you could stand up. This carried on for a while and then the roof lowered and it was back to hands and knees crawling again. There were some reasonable formations along the route, nothing absolutely spectacular, but a lot better than the old edition of Northern Caves III implied.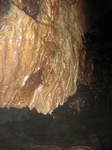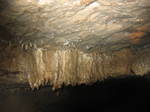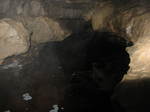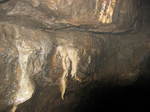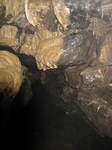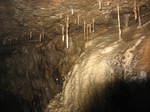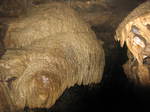 Tom and Graham eventually caught up with Dave who had gone a fair way ahead, but since Tom was getting a bit cold it was decided to head back. Dave carried on a bit further and after another 100m reached the point where the roof lowered prior to the sump chamber. The airspace looked to be about 15cm, but it was not worth bothering going to the end. We all headed back to the top of the waterfall and rigged a simple abseil to avoid having to grovel for foot holds in the waterfall. Once out in sun everyone warmed up and we then headed back to the car and a pint at the station inn.

A very pleasant wet trip on a warm day. Total trip time about 3 hours.