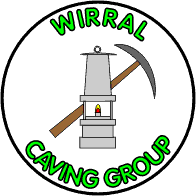 Home Page
Back to Regional Index
---
Content and images
&copy WCG 2003-2015

Click images to enlarge
---
Last Changed: 26/1/2015

E-mail webmaster

---


SRT Practise near Cilcain -- 16th Jan 2005
Group: Dennis, Helen, Paul, Dave

This trip was arranged to give Paul some SRT practise for future trips and also see if Dennis's broken arm had mended sufficiently to allow him to prussik up a rope. Helen came along on the promise of an easy abseil, but decided to remain a spectator having seen the drop! We assembled at the 'Devils bridge', a substantial structure which takes the Cilcain - Loggerheads path over a cleft left by old mine workings. This gives a nice clean 60-70' drop ideal for SRT work and some slabs which are popular for abseiling.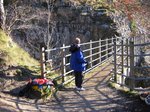 The weather was cold and clear, it didn't take long to drop a length of 10.5mm rope over the parapet and secure it and a safety loop. Dennis and Paul abseiled down the rope and then Dennis sorted out Paul with 'up' gear and explained the procedure.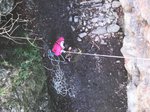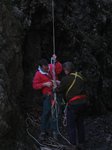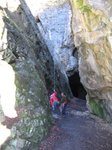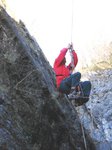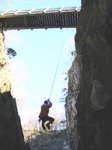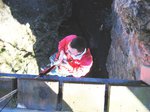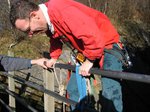 After this Dave went down to help Dennis, however Dennis appeared to have lost a bit of weight and complained about his harness being uncomfortable once loaded with his weight. Of course, having weight on the jammers mean't he couldn't get off the rope and so Dave had to push him to the rockface were he managed to free the chest jammer and drop to the ground. He decided he had had enough for the day and so I guess we will be back here in a few weeks time, hopefully with a better adjusted harness. Dave did a couple of prussiks up to see how unfit he was.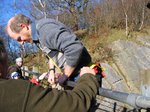 After this we had butties and then retired to the Miners Arms for a quick pint.

Overall trip time about 1.5 hours.