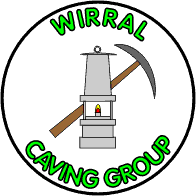 Home Page
Back to Regional Index
---
Content and images
&copy WCG 2003-2015

Click images to enlarge
---
Last Changed: 26/1/2015

E-mail webmaster

---


Trip to Sunset Hole -- 25th Feb 2007
Group: Paul, Mary, Dave

The weather looked settled as we headed off to Ingleton to call into Bernies for some gear and a late breakfast. We headed up to Chapel le Dale and parked just up from the Hill Inn. Paul had thoughtfully brought a GPS and so locating the entrance was very easy, it's in an area of limestone pavement just south of the main Ingleborough path after you cross the wall. There are two entrances, the 'dry' one and the 'wet' one which carries the stream, fortunately the volume of water today was quite small. We crawled in the 'dry' entrance and after a short distance met up with the wet passage and the stream.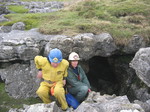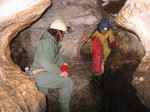 The passage continued in a rift and eventually reached a small waterfall.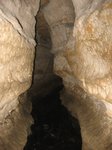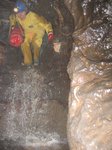 After another section of passage the first cascade was reached. Dave rigged a couple of slings as a hand line and we all climbed around and down to try avoid the water.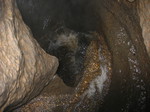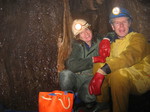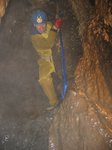 The streamway continued onward to the second cascade. This is a bit more awkward and a short length of rope was rigged and we abseiled down the 8 foot pitch to keep dry.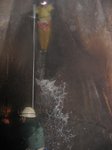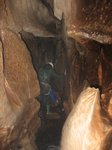 The streamway opens up a bit and continues its meandering path until the third cascade if reached. This was rigged by Paul & Mary on the LHS using a eyehole and a couple of P anchors. Shortly after this the passage opened out into the main cavern with the pitch-head. Paul/Dave rigged the main pitch while Mary practiced tying Y-hang knots.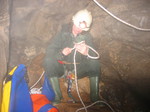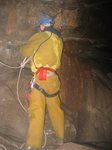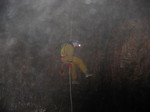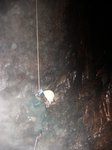 The rope hangs well clear of the water, but the chamber is pretty draughty and there is a fair amount of spray.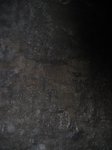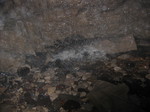 We had a look at a couple of crawls which looked cold and wet and not practical without taking all the SRT gear off. One had quite a bit of scaffolding in which seemed to hold back a boulder ruckle. It definitely was a bedding plane and it probably the route to Braithwaite Wife Hole which we passed en route to the entrance. There was a rather tatty rope ladder at one side of the chamber which probably leads to some dig or other, but didn't look particularly appealing. We got back on the rope, prussiked back up and made our way out to a rather duller looking skies. After changing we went to the Hill Inn only to find it closed :-(

Overall trip time almost 4 hours including the 1 mile walk in each direction.