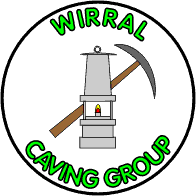 Home Page
Back to Regional Index
---
Content and images
&copy WCG 2003-2015

Click images to enlarge
---
Last Changed: 26/1/2015

E-mail webmaster

---


Trip to Water Icicle Close Cavern -- 3rd February 2012
Group: Roger, Dave

A cold and frosty day as we headed off to Buxton to call in on route to caving supplies for a new D ring and some cap lamp bezels. Retail therapy completed, we drove to Monyash and headed up Derby Lane. The ground was frozen, but the ruts eventually required the abandonment of the car to preserve the suspension and exhaust. We changed in bright sunshine and headed up the towards the trees and found the entrance shaft not far from the lane.

Dave rigged the pitch while Roger kitted up and we both headed down the shaft which is slightly constricted at the top, but opens up just after the deviation. The air seemed to be fine and a candle lit OK. While Roger was descending Dave had a look at the air quality logbook, the last entry was in November 2011 and reported no problems. The book was slightly damp and the candles and lighter a bit wet, so the box was dried out and a spare night-light added.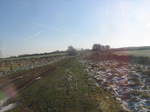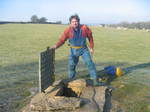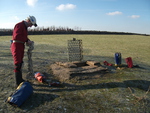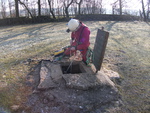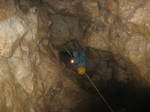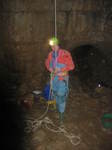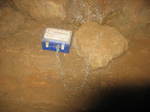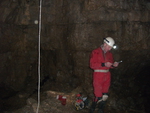 Once Roger was down we removed SRT gear and headed off to look in the South passage. An easy mix of stooping and walking reached the great rift and we had a bit of a climb around looking at bits of digs etc. It looked like there was a way up into the rift, but the wooden stemple needed to access the climb didn't look like it was wedged very well so we decided to head back to the main chamber. There were signs of digging everywhere!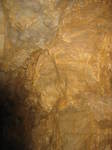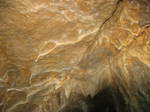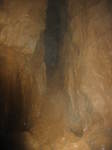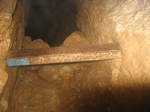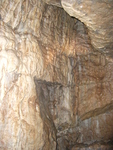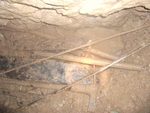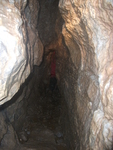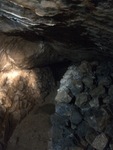 We then explored the North passage which led to a dig complete with conveyor belt flooring and buckets. Dave crawled in to have a look, but didn't reach the end as the water levels threatened to dampen what was a pleasant dry trip. There were a few nice formations on the walls and side alcoves and a lot of stacked rocks from digs etc.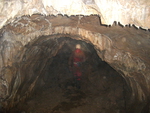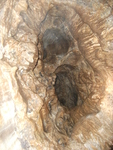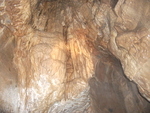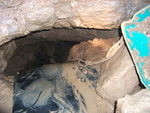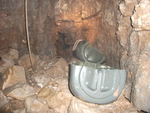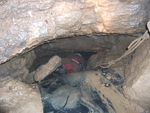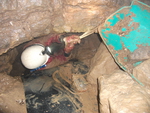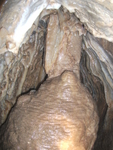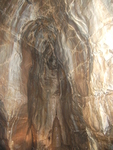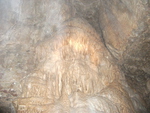 We finally headed along the Northwest passage to see where the new extensions lay. After a short walk we reached the end of the passage and on the right was a fixed ladder. At the top was a large slab and beyond was a fairly substantial grille and gate. Sadly we didn't have a key or gatekeeper and so we retraced our steps and prussiked out. As we were packing up a group from CCPC arrived and they were on a prebooked trip to see the extensions. Sod's law - if we had been a bit slower we may have met them underground and who knows...! The Crewe group actually knew they might bump into us from the Buxton grapevine, walls have ears!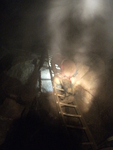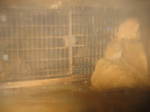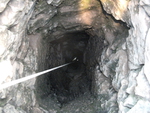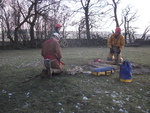 A nice easy trip which would have been even better if we had got to the extensions - I guess we will just have to book a trip for 2013.

Overall trip time about 2.5 hours.