Introduction
Liverpool itself has over 2500 listed buildings, the largest number in the United Kingdom outside London. The city and the surrounding area are especially blessed with the top category Grade I listed buildings, all of which are described in this feature. Many of these are churches and chapels, but there are plenty of civic, commercial and residential buildings as well, even a castle.
Info
This site is the work of Laurence Scales and is part of allertonOak.
The site is entirely non-commercial and is intended for educational purposes.
The site is best viewed at a minimum of 1024x768 pixels resolution. The page layout will be optimal with your browser at about 1200 pixels wide.
Modern colour photographs on this site are by the author except where specified; you may copy these for non-commercial purposes only, but please place an acknowledgement to www.allertonoak.net at their point of use.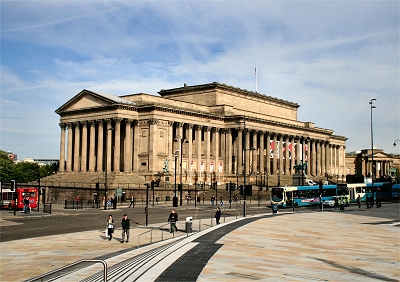 St. George's Hall, Liverpool