The Middleton/Rivenhall Line and its Origins
The most historically significant branch of the Scales family is that deriving from Roger de Scales born in 1098. He is thought to be a descendant of Hardwin de Scalers but the precise nature of the relationship is not known for sure. This branch of the family adopted the same coat of arms, a scallop shell motif with no motto (our site logo), as the Reed/Whaddon branch, whereas the arms of the Shelford/Caxton branch were different. However, they always seem to have used the present form of the surname. I am going to suggest (no more) that he was the son of Hugh de Scalers and therefore grandson of Hardwin. The dates seem reasonable, but there is always the possibility that he connects to the family further back.
Roger first appears in Middleton, near King's Lynn in Norfolk, during the reign of Henry II (c.1160), married to Muriel de Lisewis. He acquired from her a number of domains in Norfolk (including Middleton itself) that she had co-inherited with her brother Geoffrey from Hugh de Montfort. After Muriel's death, Roger married Agnes de Rivell, heiress of the Manor of Worlington in Suffolk, thus extending his lands to the south. He was the founder the Middleton/Rivenhall branch of the family, which eventually came through marriage to reclaim the Manor of Newselles and title Lords of Newselles. The family tree of the Middleton/Rivenhall Scales line is shown as far as it is known at the bottom of the page.
Middleton was the main seat of this branch of the Scales family for four generations, on the site that is now Middleton Towers but was originally the manor house called Scales Hall. Very little is left of the early dwelling except for the moat, the remains of some fish ponds and some other earthworks (see later on this site). When the 3rd Robert Scales married in 1255, he acquired the Manor of Rivenhall in Essex, which became the main seat of the family for the next seven generations until Thomas, 7th Baron Scales, moved back to Middleton and commenced the building of Middleton Towers.
Blackborough Priory and St. Mary's Church
Roger de Scales and Muriel de Lisewis founded the Priory of St. Mary and St. Catherine, later known as Blackborough Priory in about 1150. The Priory was originally intended to house monks, but soon after its foundation it admitted nuns as well. In 1200 it became a Benedictine nunnery and remained as such until the Dissolution of the Monasteries in 1538. The ruins are still there: the probable south wall of the church, the gable end of another substantial building and the north gable and part foundations of a smaller building. Dense spreads of building materials mark the sites of other buildings attached to the Priory and the earthworks of five mediaeval fishponds have been recorded.
St. Mary's Church in Middleton was also founded at this time, no doubt by the Scales family; their arms appear in a stained glass window in the north isle and the east window of the chancel is ornamented with scallop shells.
The Early Middleton/Rivenhall Line
Roger's son Robert (1129-1198) married Alice, but little is known of her or his brother William (b.c.1131) except that the latter became a monk at Blackborough Priory. Their son Roger (d.bef.1219) married Maud.
Roger's son Robert (d.aft.1235) married the heiress Margaret (Margery) de Beaufou, daughter of Fulk de Beaufou of Hockwold cum Wilton in Norfolk. He had a sister Margaret (b.c.1163). Robert was summoned to parliament in about 1205 with the title of Lord Scales. In 1238, a Katherine de Scales is recorded as being prioress of Blackborough Priory, but her precise connection to the family is unknown.
Robert's son Robert (1189-1257) married Alice de Rochester, heiress of Sir Ralph de Rochester. The latter at this time was holding the title Lord of Newcells, so the estate must have transferred by marriage. At any rate, she brought the title back to the Scales family together with the estates at Newselles and much more, including Rivenhall in Essex, which became the main seat of the family for the best part of 200 years. In 1268, after her husband's death, she arranged that the title Lord of Newcells be passed on to her younger son Roger (b.c.1223). In 1274 she is recorded as having recovered damages for some of her swans being stolen at Hockwold cum Wilton. She died shortly afterwards.
The Rivenhall estate is now known as Rivenhall Place, though nothing remains of the original manor house following the 16th-18th century rebuild. The church of St. Mary and All Saints in Rivenhall was established in the early 11th century, extended in the 14th-15th centuries and substantially remodelled in the 19th century.
Robert's eldest son Peter inherited his father's estate but died shortly after his father in 1258. The second son Robert (1219-1266) took over and married Muriel de Liscuris, heiress of Jeffery de Liscuris. On her death, seemingly without issue, he married Clemence (Clementia), by whom he probably had his three sons. Robert had two other younger brothers: John (b.c.1233) and Geoffrey (b.c.1235). He was involved in several expeditions to France and served in Parliament. He was serving at Dover Castle from 1261-2 alongside a mysterious Sir Radulfus de Escales. Clemence outlived him and remarried to Sir Robert de Vaux.
Robert 1st Baron Scales
Robert and Clemence's son Robert (1249-1305) became the first Baron Scales in 1299 for his services to Edward I. He married Isabel de Burnell, niece of Robert Burnell, Bishop of Bath and Wells, Lord Chancellor and Treasurer of England and trusted associate of Edward I. He had two younger brothers: William (b.1251) and Richard (b.c.1253). His main residence was the Manor of Rivenhall in Essex, but he also held Middleton, Newselles and a large amount of other land in Norfolk, Suffolk, Lincolnshire and Cambridgeshire. Robert fought for Edward I in the invasions of Wales in 1276-77 and 1282-83, finally defeating Llywelyn and Dafydd ab Gruffydd and other Welsh chieftains. This marked the start of the construction of the many famous castles in Wales.
In 1294 he accompanied Edward to Gascony in the unsuccessful war against France. Philip IV of France had declared Edward's own Duchy of Gascony forfeit when Edward refused to appear before him in Paris to discuss the recent conflict between English, Gascon and French sailors that had resulted in several French ships being captured and the sacking of La Rochelle. In 1296, he was with the King for the invasion of Scotland, a temporary success for the English. This was when Edward confiscated the Stone of Scone (the Scottish Coronation Stone) and brought it to Westminster Abbey. In 1298 he was in Flanders accompanying the king in seeking a peace aggreement with Phillip IV. In 1301 he was again with the king in his campaigns against William Wallace in the First War of Scottish Independence. He served in Parliament from 1299 until his death.
Isabel was a great benefactress to Blackborough Priory, where she was buried, and gave a silver chasuble and vestments for the priests, carrying the family arms, along with ornaments to lay over her sepulchre on the day of her anniversary.
Robert 2nd Baron Scales
Robert, 2nd Baron Scales (c.1278-1324), was made Knight of the Bath in 1305 by Prince Edward, whom he accompanied in the Scottish wars and whose coronation as Edward II he attended in 1308. His main residence was the Manor of Rivenhall, but he also held Middleton and numerous other estates in Norfolk. He had two younger sisters: Isabella (b.c.1281) and Catherine (b.c.1283). He married Egelina (Evelina) de Courteney, daughter of Hugh, Baron Courteney and Earl of Devon. He served in Parliament from 1306 until his death.
Robert 3rd Baron Scales
The 2nd Baron died leaving his son Robert, 3rd Baron Scales (1312-1370), a minor in the custody of his mother. He assumed charge when he came of age in 1333. His main residence was the Manor of Rivenhall, but he also held Middleton, Newcells and a number of other estates in Norfolk, Suffolk, Cambridgeshire and Essex. He had an elder sister Petronella (b.1304) and three younger siblings: Peter (fl.1330-1346), who held the Manor of Wetherden in Suffolk, Eleanor (1315-1361), who married John, 2nd Baron Sudeley, and Hugh (b.c.1317). He married Catherine d'Ufford, daughter of Robert d'Ufford, 1st Earl of Suffolk, and sister and co-heir of William d'Ufford, 2nd Earl of Suffolk. In 1335 he was in Scotland with William d'Ufford and in 1337 he was on the King's Service overseas with Robert d'Ufford and his younger brother Peter. He was campaigning on Edward III's behalf in Brittany in 1342 and in Gascony in 1345. In 1346-7 he was with Edward at the Siege of Calais, which was successful for the English but marked the start of the Hundred Years War. He served in Parliament from 1343 until his death.
Roger 4th Baron Scales
Roger, 4th Baron Scales (1348-1387), was born in Newselles and assumed the title Lord of Newcells, but his main residence was the Manor of Rivenhall. He also had land in Cambridgeshire. He had two elder brothers, Peter (c.1334-bef.1370) and Robert (c.1342-bef.1370), both of whom predeceased their father, and two elder sisters, Elizabeth (c.1335-1367), who married Sir Roger de Felbrigg, and Margaret (1339-1416), who married Sir Robert Howard. Roger married Joan de Norwood, daughter and heir of Sir John de Norwood of Kent, and acquired further estates in Kent and Essex through her. In 1371 he was on an expedition to France and in 1381 was seized by the Norfolk Rebels during the Peasants' Revolt. He attended Richard II to Scotland in 1384 and John, Duke of Lancaster, in the Spanish expedition of 1385. He was Commissioner of the Peace for Cambridgeshire and Norfolk for many years between 1373 and 1386. He died on Christmas Day in 1387 and was buried at Blackborough Priory, leaving his estates under the control of his wife until his son's majority in 1394.
Robert 5th Baron Scales
Robert, 5th Baron Scales (1373-1402), held the Manors of Rivenhall, Newselles and other estates in Norfolk, Suffolk and Cambridgeshire. He had a younger sister Catherine (c.1377-1438), who married Arnold Savage of Kent. He married Elizabeth Bardolf, daughter of William, 4th Baron Bardolf, an extensive landowner in Norfolk, Suffolk and Lincolnshire. Robert voted in parliament for the safe custody of Richard II after he was deposed in 1399 and for Henry Bolingbroke to be crowned King Henry IV. He was Commissioner of the Peace for Norfolk from 1399 to 1401. He died in 1402 and was buried at Blackborough Priory.
Robert 6th Baron Scales
Robert, 6th Baron Scales (1396-1419), was only six when his father died and was under the wardship of Ralph, Earl of Westmoreland, until his majority. He had an elder brother Richard (d.c.1402), who had an estate in Wetherden, Suffolk, and seems to have died around the same time as his father (1402). Robert died unmarried at the siege of Lovers Castle in Normandy, en route with Henry V from Caen to Rouen. His younger brother Thomas became the illustrious 7th Baron (see the next page on this site).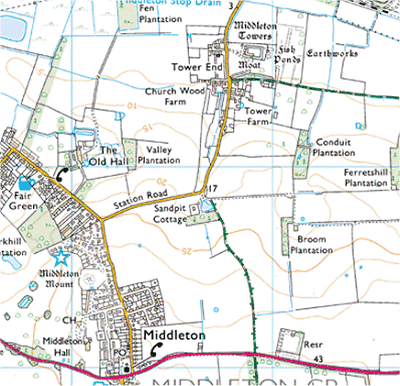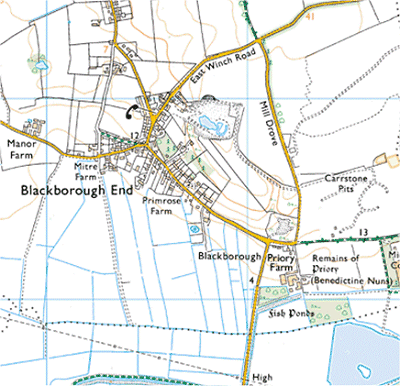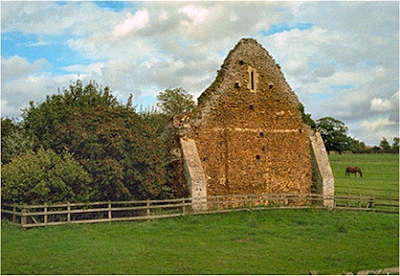 The Ruins of Blackborough Priory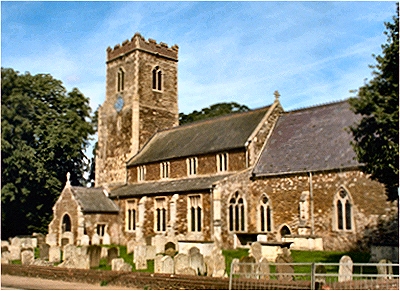 St. Mary's Church, Middleton