What is this site about?
This site is primarily concerned with the origin of the Scales name among the Scandinavian Vikings and their diaspora in Normandy and Ireland, and with the history of the Scales nobility in the 450 years following the Norman Conquest. Some present-day Scaleses no doubt descend from the early noble families even though none can by now establish a direct line. I have integrated a lot of material from different sources here and this is probably the most comprehensive rendering of the historical story of the Scales name in England in one location on the Web. The site also includes material on the historical della Scala family of northern Italy, whose name has the same origins.
I hope this material proves interesting not only to Scaleses out there; I have had much valuable feedback already. I'd be grateful to hear of any further information that could be used on the site.
A Quick Introduction
The Scales name is Viking in origin and arrived in England via two main routes: the expulsion of the Irish Vikings leading to their migration to north-west England and the Norman conquest (possibly also from the invading Danes). The Italian della Scala name has the same Scandinavian roots and arrived in Italy via the Lombards, who had Nordic origins.
The name arrived among the English nobility with Hardwin de Scalers, supporter of William the Conqueror. His descendants split into two branches, one headed by each of his sons, which we refer to as the Reed/Whaddon and Shelford/Caxton branches.
The primary line of the Reed/Whaddon branch in Hertfordshire and Cambridgeshire terminated with the death of Anne de Scalers in 1493. An important secondary line of this branch became the Middleton/Rivenhall branch in Norfolk and Essex. This line became the Barons Scales and ended with Robert 7th Baron Scales, the most famous member of the family, and the death of his daughter Elizabeth de Scales, sister-in-law of Edward IV, in 1483. The primary line of the Shelford/Caxton branch in Cambridgeshire terminated with the death of Lucy de Scalers in 1256.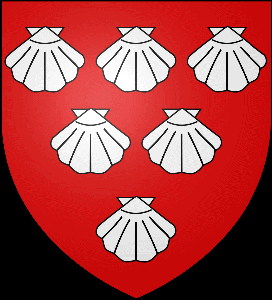 The Scales Coat of Arms
Contact Information
eMail the Guest Book


Read the Guest Book


Send a Private eMail
Return to the parent site

allertonOak