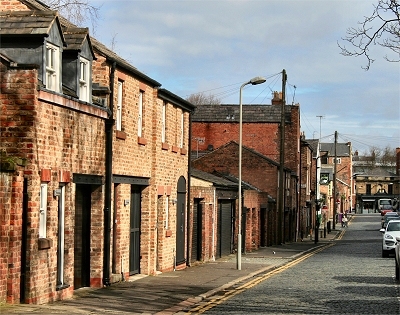 Pilgrim Street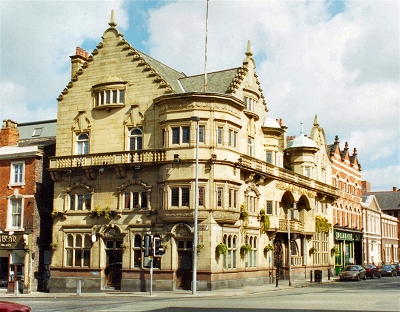 The Philharmonic Dining Rooms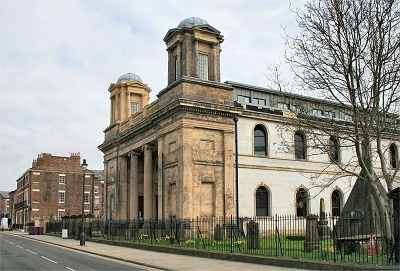 St Andrew's Church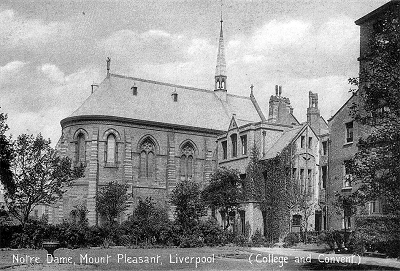 Notre Dame Chapel
Pilgrim Street, a back street connecting Upper Duke Street to Hardman Street, has converted coach houses at the back of Rodney Street down one side that lend it a definite old world charm. One of the old buildings is now an interesting and atmospheric pub, the Pilgrim, the entrance to which is tucked away in a little alley down some steps.
The Old School for the Blind on Hardman Street was a new building of 1849-51 replacing an original that had to be demolished for the construction of Lime Street Station. It has recently been nicely refurbished as a restaurant and bar.
The Philharmonic Dining Rooms, probably Liverpool's most famous pub, was designed by Walter Thomas (who also designed the similarly grand Vines on Lime Street) for Robert Cain's brewery and was completed in 1900. The exterior (recently restored) is a kind of Scottish castle fantasy with magnificent art nouveau wrought iron gates.
Inside, there is loving attention to detail with ornate plasterwork, stained glass windows, glazed tiles and mosiac floors, with which the Liverpool University Schools of Art and Architecture were extensively involved. Accomodation is on the grand scale, the several large rooms lined with dark mahogany panelling and decorated with carving, the work of ships' carpenters who built the lavish interiors of the ocean-going liners of the time. The huge room at the back (the Grand Lounge) was once the billiards room.
Perhaps the pub's most celebrated feature is the gents' toilet, a somewhat dog-eared extravaganza in mosaic and marble (ladies may arrangement with the management). With an appropriate conflation of allusions to music and alcohol, two of the rooms are called Brahms and Liszt. One of these has an imitation minstrel gallery, while in the other is a fine stained glass window dedicated to music. The inscription reads 'Music is the universal language of mankind'. I'll drink to that.
St Andrew's Church, originally St. Andrew's Scotch Kirk of 1824, is located at the northern end of Rodney Street and now, after renovation, houses student accomodation. The original churchyard remains, featuring a strange pyramid of 1868, which is the tomb of railway magnate William Mackenzie, said to be buried in a seated position.
Notre Dame Convent evolved and expanded from the house at 96 Mount Pleasant beginning in 1851. It became the Notre Dame Collegiate School in 1902, a direct grant grammar school in 1946 and a girls' comprehensive school in 1983. It is now part of Liverpool John Moores University. The view from Mount Pleasant is rather flat and haphazard and the rear is now cluttered with more recent developments, but the c.1900 photo here shows the impressive chapel as it once looked.
The northern end of Hope Street is completely dominated by Liverpool Metropolitan Cathedral, a magnificent counterpoise to the Anglican Cathedral at the southern end.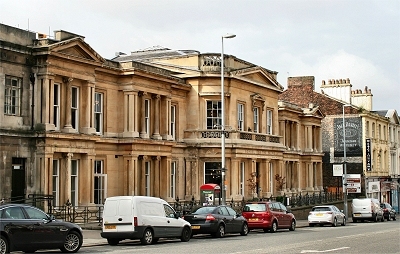 The Old School for the Blind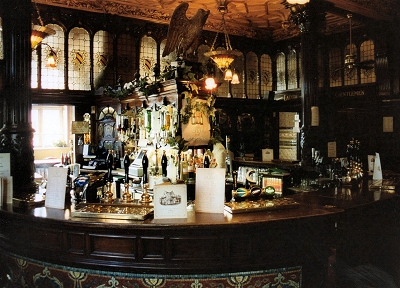 The Philharmonic Dining Rooms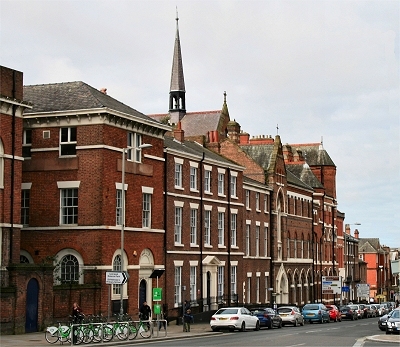 Notre Dame Convent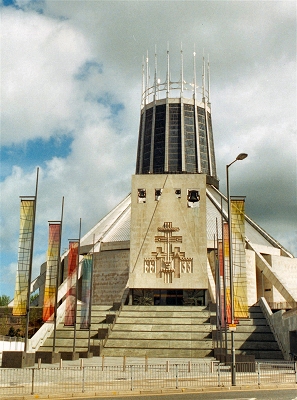 The Metropolitan Cathedral