Introduction
The area covered by the conurbation of modern Liverpool was once traversed by a number of small rivers or streams, the scant remains of which can still be seen in some places. Uncovering these lost rivers provides a fascinating insight into the landscape of the past. They disappeared mainly because of widespread building and the subsequent redirection of rainfall into the sewerage system. They were historically important as sources of water and power, drainage, district boundaries and, even many years ago, recreation. Latterly they were also conduits for pollution and disease. Liverpool itself was established at the mouth of one such river, The Pool, where it entered the River Mersey.
I have followed the rivers from the centre of Liverpool to the south and then to the north. Modern reference points that I have used to describe their courses are as accurate as I can manage, but may not be precise.
Info
This site is the work of Laurence Scales and is part of allertonOak.
The site is entirely non-commercial and is intended for educational purposes.
The site is best viewed at a minimum of 1024x768 pixels resolution. The page layout will be optimal with your browser at about 1200 pixels wide.
Modern colour photographs on this site are by the author except where specified; you may copy these for non-commercial purposes only, but please place an acknowledgement to www.allertonoak.net at their point of use.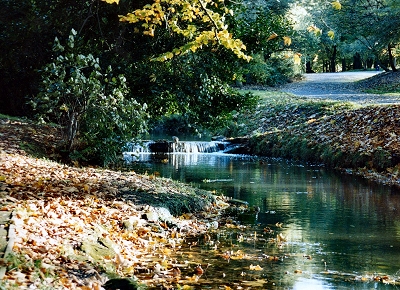 The Upper Brook in Sefton Park