Lords of Newselles
Hardouin d'Escaliers (c.1040-aft.1086) was a Norman noble who came over with William the Conqueror in 1066. His name suggests that he probably came from the village of Escalles 8 miles (13 km) west of Calais in the Pas de Calais region of northern France. The village is near Cap Blanc Nez, the nearest point in France to the English coast, just 20½ miles (33 km) away at South Foreland, east of Dover. One might picture him covetously eyeing the sunlit White Cliffs of Dover, all too visible on a clear day, from his native lands. (My thanks to the reader who alerted me to the possible connection with Escalles.)
On leaving France behind he naturalised himself as Hardwin de Scalers and received for his troubles a large number of domains in Hertfordshire and Cambridgeshire from a grateful William I following unsuccessful rebellions of the native English aristocracy over the four years following the conquest. He and his descendants established themselves initially as Lords of Newselles in Hertfordshire, a name to be attached intermittently to the family for many generations. The current OS map has the spelling Newsells, which is 4 miles south-east of Royston in Hertfordshire, but there is no longer a village as such. Neighbouring Reed was to become an important seat of the family. There are the remains of a number of ancient moated dwellings and a motte and bailey castle in the area. There is also a Scales Park south-east of Barkway. The major Roman Road Ermine Street passes nearby, which clearly had a strategic importance.
Lands in Hertfordshire
By the time of the Domesday Book in 1086, Hardwin held a considerable amount of land around the Hertfordshire and Cambridgeshire border. In Hertfordshire, these possessions lay to the south and west of Royston connected with the villages of Reed, Therfield, Kelshaw, Hinxworth, Ashwell, Wallington, Clothall, Rushden, Sacombe and others. He also had land about 1 mile north of Cottered at Broadfield, a village that is now extinct, and a more southerly domain at Little Berkhamstead about 5 miles south-west of Hertford.
Lands in Cambridgeshire
In Cambridgeshire, most of Hardwin's territory lay in a triangle between Royston, Cambridge and St. Neot's connected with the villages of Caxton, Croxton, Caldecote, Longstowe, Kingston, Great Eversden, Little Eversden, Orwell, Whaddon, Wimpole, Shepreth, Little Shelford and others. Caxton, Whaddon and Little Shelford were to become further important family seats.
The current OS maps show the remains of many mediaeval moated dwellings in these Hertfordshire and Cambridgeshire villages. These moats can not have been built for defence as they would have been rather ineffective as such. They are more likely to have been fashionable status symbols in imitation of the great castles.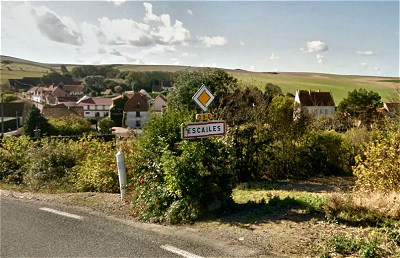 The Village of Escalles in Northern France