The Sons of Hardwin de Scalers
On Hardwin's death, his lands were split between his sons Hugh and Richard, though not in a simple way. For some reason, both brothers were even given lands in the same village on a number of occasions, with one of them being the dominant partner. This lead to inevitable lawsuits between cousins down the generations. The family tree of these two branches as far as it is known is shown at the bottom of the page.
The Reed/Whaddon Line
Hugh de Scalers (b.c.1070) held the manors of Reed and Whaddon, among others. The manor at Reed became known in a frenchified form of the family name as Deschallers or d'Eschallers, or in the more anglicised version Challers. The remains of the manor house, consisting of a moated mound, are still in existence near Reed Hall. Google Earth shows the moat clearly, just to the south of Reed Hall. Hugh became a monk at Lewes Priory.
Hugh had one son Henry for sure, who inherited the Reed and Whaddon estates. He may also have been the father of Roger de Scales (b.1098), who married Muriel de Lisewis and thereby acquired domains in Norfolk and founded the Middleton/Rivenhall branch (see later on this site), but this has not been confirmed.
It seems that the Manor of Newselles passed temporarily to the Rochester family in 1210, to be reclaimed in marriage by the Middleton/Rivenhall branch of the family in 1255 (see later on this site). At any rate, from around 1200, Whaddon in Cambridgeshire became an increasingly important seat of the de Scalers family and their descendants until the 16th century. The current OS map shows the scant remains of three moated sites in the village (other families had interests there too). The Scalers manor house stood on the site to the south-east of St. Mary's church, though I can detect no signs of this on Google Earth. As at Reed to the south, the strategic Roman road Ermine Street passes nearby.
Henry's son Hugh (d.c.1218) handed over the church at Whaddon to Lewes Priory. On his death, custody of the estates was assigned to his widow Ala while their first son Henry (d.c.1221) was on Crusade. Unfortunately he died without issue in Jerusalem and his younger brother Geoffrey (c.1200-bef.1267) took over the estates when he came of age.
By 1258 Geoffrey was said to be too old and infirm to perform his duties and arranged for his son Geoffrey (d.1267) to take over. On the latter's death, custody passed to his widow Eleanor until their son Thomas (c.1263-1341) took over on coming of age in 1284.
Thomas married Elizabeth de Turnbergh and their first son Thomas (d.bef.1364), who married Amice, predeceased his father before having any children. The estates passed to his younger brother John (c.1350-1388), who was a minor at the time, and became Sir John de Scalers. Upon his death, custody passed to his widow Margaret as their son Thomas (c.1381-1443) was only about 7 years of age.
Thomas took over when he came of age in 1402. He was succeeded by his son, another Sir John de Scalers (1422-1467), who became Sheriff of Berkshire and Oxfordshire in 1451. He left three daughters: Alice (d.1478), Anne (d.1493) and Margaret de Scalers, who were his co-heiresses.
The Churches of St. Mary
St. Mary's Church in Reed has its origins about the middle of the 11th century, before the arrival of Hardwin de Scalers; the surviving nave is of this period. Much of the other work is 14th and 15th century and so the construction would have spanned the time the de Scalers family were resident here and for which they were presumably benefactors.
There was a church at Whaddon in Saxon times. The present St. Mary's church seems to have had its origins in the 12th century, though much of the structure is 14th and 15th century; the de Scalers family were again presumably patrons. It contains the tomb of the second Sir John de Scalers and also monuments to his great-grandfather Thomas, his grandfather John and John More (d. 1493), husband of Alice de Scalers.
Alice de Scalers and the More Family
When Sir John de Scalers of the Reed/Whaddon branch died in 1467, he left three daughters: Alice, Anne and Margaret de Scalers, who were his co-heiresses. Thus the Reed/Whaddon granch of the de Scalers family finally ended after 12 generations and some 450 years.
Of the youngest daughter Margaret, I have not been able to find further details, except that she apparently married Henry Moyne and probably did not get much of a deal from the estate. Alice married John More of Oxfordshire and the Whaddon estate passed to her. On Alice's death in 1478, the estate passed down the male line of the Moore family, growing in size, up until her great-great-great-granddaughter Elizabeth More who inherited on her father William's death in 1608. Elizabeth married William Tempest. One Sir Charles Robert Tempest was a 19th century descendant, who was also a descendant of the Middleton/Rivenhall line and thereby laid claim to the De Scales barony (see later on this site). The estate subsequently changed hands many times down the centuries until it was sold to Cambridgeshire county council and private tenants in 1914. The manor house was demolished in the early 19th century.
Anne de Scalers and the Wellesborne Family
Anne de Scalers inherited the Manor of Challers at Reed and married twice. Her first marriage was to John Harcourt, a minor member of an illustrious family whose forebear had fought at the side of William of Normandy in the Battle of Hastings. Her second marriage was to Giles Wellesborne, who also predeceased her. Little is known about either of them.
Both of Anne's husbands suffered from financial embarrassment, as appears from the marriage settlement she made on her daughter and heir Margery with Humphrey Wellesborne in 1493. Humphrey had paid off several of the debts of Anne and her two husbands, and Anne in return granted him the yearly issues of the Manor of Challers, receiving 20 marks a year for her maintenance and that of her maid. However, Anne died later in 1493 when Margery was 18.
Humphrey Wellesborne died in 1516 and left most of his estate to Margery. In return for this, in accordance with a promise she had made him, Margery in 1516 conveyed the manors of Reed and Wyddial (a short distance to the south) to trustees to be settled to her use for life and then to pass to her son Arthur Wellesborne and his heirs, or, failing that, to her sons Ardewyn (Hardwin was still remembered, apparently), Jasper and Henry Wellesborne and their heirs. Around 1520, Margery married her second husband Thomas Cheyne. By 1522, she had presumably moved in with him since she sold the Manor of Challers to one Robert Dormer, to whom Arthur Wellesborne also conveyed his rights in the manor. Following this the manor changed hands numerous times down the centuries and was sold to a private tenant around 1900.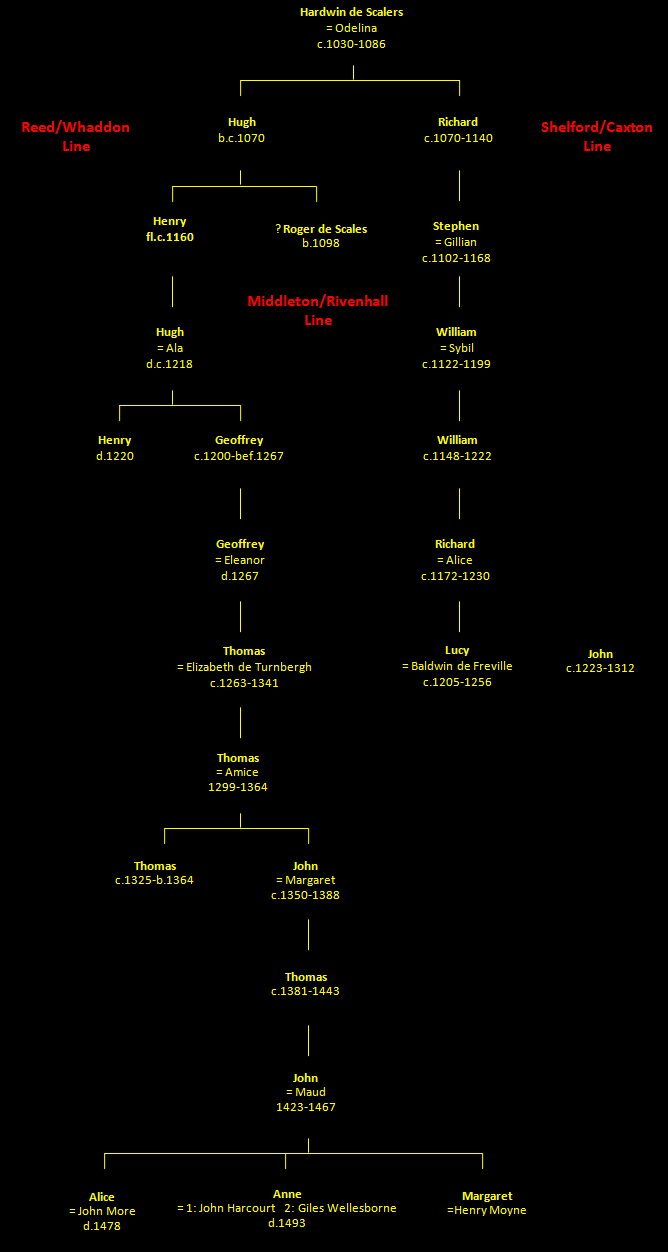 Family Tree of the Scalers of Reed/Whaddon and Shelford/Caxton
NB: Sources are often conflicting or ambiguous, especially with respect to minor family members. Dates in general are imprecise. This is my best attempt to pull everything together into a coherent whole using the latest available information.